JAMMU AND KASHMIR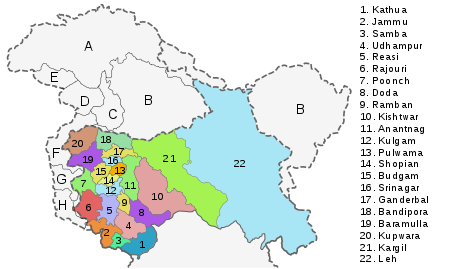 Jammu and Kashmir is famous for its natural beauty since time immemorial and has been aptly described as "heaven on earth".
It is a state in northern India which is mostly located in the Himalayan Mountains.
| | |
| --- | --- |
| Capital | Srinagar (Summer)Jammu (Winter) |
| Date of Formation | 26 October 1947 |
| State Boundaries | Himachal Pradesh, Punjab |
| International Boundaries | Pakistan, China, Afghanistan |
| Language | Urdu, Dogri, Kashmiri, Balti, Ladhaki, Purig, Gurji, Dadri, Hindi, Punjabi |
| Tourist Place | Dal LakeShalimar BaghPahalgam GulmargVaishno DeviLadakh |
| Rivers | Chenab, Jhelum, Indus, Zanskar, Suru, Nubra, Shyok, Kishan Ganga, Ravi, Tawi |
| Geographical Features | Mountain ranges (Karakoram range, Laddhak range, Zanskar range, Pir Panjal)Valleys (Kashmir valley, Tawi valley, Chenab valley, Poonch valley, Sind valley, Lidder valley)Great Plains of Northern India |
| Political division of J & K | India : Jammu, Kashmir Valley & Laddakh regionPakistan (since 1947) : Gilgit-Baltistan & Azad Kashmir regionChina (after 1962) : Aksai Chin region |
| State Animal | Hangul |
| State Bird | Black-necked crane |
| State Tree | Chinar |
| State Flower | Lotus |
| Number of districts | 22 |
| Forests | Sub-Tropical Dry Deciduous ForestsSub-Tropical Pine ForestsHimalayan Moist Temperate ForestsHimalayan Dry Temperate ForestsAlpine ForestsForests in Cold Arid Zone |
| National Parks | Dachigam National Park (Srinagar)Kishtwar National Park (Kishtwar)Hemis High Altitude National Park (Ladakh)Salim Ali National Park (Srinagar)Kazinag National Park (Baramula) |
| Lakes | Dal Lake, Pangong Tso, Tso Moriri, Manasbal Lake, Sheshnag Lake |
| Major Crops | Paddy, Wheat, Fruit, Saffron |
| Arts & Crafts | Kar-i-Kalamdan or the art of making lacquered pen cases out of paper pulp is a famous handicraft industry; Kashida embroidery.Basholi Painting, Calico Painting, PhoolkariCarpets, Kashmiri Shawls, Wood craving, Chainstitch, Crewel, Papier-mache, NamdaClay Moulding, Ladhak Carpet and Pashima Weaving, Thanka and Fresha Painting |
| Dances & Music forms | Kudd, Dogri/Pahari music, Hafixa, Bacha/Nagma dance, Rouff, Dhumal, Geetru |
| Festivals | Saffron festivalGurez FestivalTiharNavrozEidUrsShab-e-MirajBahumelaShikara FestivalJhiri Mela |
| Folk Theatre | Bhand Pather |
| Passes | Zoji La PassChangla PassKhardung La PassShingo LaBanihal Pass |
| Mountain Peaks | Golden Throne, Nanga Parbat, K2, Gasherbrum |
| Ramsar Wetlands | Surinsar-Mansar Lakes, Hokersar, Wular Lake, Tsomoriri |
| Wildlife Sanctuaries | Changthang cold desert wildlife sanctuaryKarakoram (Nubra Shyok) wildlife sanctuaryOvera-Aru wildlife sanctuaryGulmarg wildlife sanctuaryLachipora wildlife sanctuaryLimber wildlife sanctuarySurinsar-Mansar wildlife sanctuaryHirpora wildlife sanctuaryBaltal-Thajwas wildlife sanctuaryHokersar wildlife sanctuaryJasrota wildlife sanctuaryLachipora wildlife sanctuaryNandini wildlife sanctuaryRajparian wildlife sanctuaryRamnagar Rakha wildlife sanctuaryTrikuta wildlife sanctuary |
| Minerals | Limestone, Gypsum, Marble, Coal, Magnesite, Borax, Graphite |
| Power Projects | Uri-I Hydroelectric Project (Jhelum)Baglihar Stage- I Hydroelectric Project (Chenab)Ranjit Sagar Dam Hydroelectric Project (Ravi)Chutak Hydroelectric Project (Suru)Nimmo – Bazgo Hydroelectric Project (Indus) |
| Institutions | High Altitude Research Laboratory (Gulmarg)Central Institute of Temperate Horticulture (Srinagar) |
| Temples | Raghunath TempleVaishno Devi MandirAmarnathSudh Mahadev |
| Monasteries | SamstanglingHemis monastery |
| Mosques | Hazratbal MosqueKhanqah of Shah HamadanJama Masjid |
| Personalities | Suresh RainaP.N.Kaul (Ex-CAG)T.S. Thakur, incumbent Chief Justice of IndiaChain Singh, Indian national shooting teamVikrant MahajanBansi Kaul |
FACTS
Dachigam National Park – Srinagar – is best known as the home of the hangul, or Kashmir stag (state Animal).
Hemis National Park – Ladakh- famous for Snow Leopard, Asiatic ibex, Argali (Great Tibetian Sheep).
Kishtwar National Park is famous for Himalayan Snow Cock and brown bear.
Kazinag National Park is famous for Markhor (Capra falconeri), Himalayan Musk Deer (Maschus crysogater)
India produces the finest Pashmina (Cashmere) wool in the world, the main and best quality coming from the Changthang plateau of Ladakh region of J&K State.
Pashmina wool is produced by Changra (Pashmina) goat in Ladakh and Chegu breed of goat in the eastern parts of Himalayas.
Basohli is famous worldwide for Basohli painting.
Asia's largest Tulip Garden is in Srinagar
Banihal-Qazigund rail link has India's longest railway tunnel (11Km approx)
Cold Desert Cultural Landscape of India is situated in the Himalayas and stretches from Ladakh (J&K) in the north to Kinnaur (Himachal Pradesh) in the south. • Shikaras -traditional small wooden boats, and houseboats are a common feature in lakes and rivers across the Valley.
China-Pakistan Economic corridor (CPEC) – passes through Gilgit-Baltistan region of Pakistan occupied kashmir to which India has objection. That is one of the major hindrances in India joining OBOR.
The Shanti Stupa is white-colored domed-shaped structure, located in Chandspa which looks extremely beautiful during night when it is illuminated. This peace pillar was built a 'peace sect' of Japanese Buddhist organization to celebrate the completion of 2500 years of Buddhism and for the promotion of world peace. It was inaugurated by His Holiness, the Dalai Lama in 1985. This pillar is known for its gilt panels depicting the life stories of Lord Buddha.
The hangul or Kashmiri stag is the only species of European red deer found in India.
In Ladakh, they believe in Bon which is an animistic religion in which the forces of nature are worshipped.
The biggest attraction of the Dal Lake are the houseboats that can be seen floating there.
The Mughal Gardens of Srinagar is a popular tourist attraction.
Kashmir is also known for its traditional crafts and has some of the best handicrafts in the country; carpets, shawls, paper mache and walnut wood craft to name a few.
Kalhana, the first Indian history writer, gave a vivid account of the history of Kashmir before the 10th century AD.
The greatest Muslim king of early medieval age in Kashmir was Zain-ul-Abidin, who ascended the throne in AD 1420 and ruled up to 1470.
In 1587, Akbar annexed Kashmir into his vast empire.
Jahangir, son of Akbar and next Mughal ruler, visited Kashmir 13 times and created two beautiful gardens on the bank of Dal Lake, namely, the Shalimar Bagh and Nishat Bagh.
In 1819, the Sikhs under Maharaja Ranjit Singh annexed this region, but their empire remained in place only for 27 years.
Ladakh, also known as "Little Tibet"
Urdu written in the Persian script is the official language of the state.
Kawa, traditional green tea with spices and almond, is consumed all through the day in the chilly winter climate of Kashmir.Siachen Glacier is 70 km (43 mi) long making it the longest Himalayan glacier.
Ranbir Canal has the largest irrigation net work of the State of Jammu & Kashmir.
The Martand Canal is one of the oldest canals of Jammu and Kashmir State.
Wood from Kashmir is used to make high quality cricket bats known as Kashmir willow
State has maximum number of Ramsar sites (4) in India
The Indus Waters Treaty was signed on September 19, 1960. It was brokered by the World Bank.
Jammu and Kashmir is the only state in India with a Muslim-majority population.
The name Srinagar means the "City of Lakshmi, the Goddess of Wealth". It was founded by Ashoka the Great.
The present city of Srinagar was built by Pravarsena II adjoining the old city.
India's first floating post office is in Kashmir.
ARTICLE 370
Article 370 of the Indian constitution is an article that gives autonomous status to the state of Jammu and Kashmir.
The article is drafted in Part XXI of the Constitution: Temporary, Transitional and Special Provisions.
The State's Constituent Assembly was empowered to recommend the articles of the Indian constitution to be applied to the state or to abrogate the Article 370 altogether.
After the state Constituent Assembly dissolved itself without recommending abrogation, the Article 370 was deemed to have become a permanent feature of the Indian Constitution.
ARTICLE 35A
Is a provision incorporated in the Constitution giving the Jammu and Kashmir Legislature a carte blanche to decide who all are 'permanent residents' of the State and confer on them special rights and privileges in public sector jobs, acquisition of property in the State, scholarships and other public aid and welfare.
The provision mandates that no act of the legislature coming under it can be challenged for violating the Constitution or any other law of the land.